Eheu

! My school is closed and I'm teaching remotely! What can I do?!

 
---
Cambridge Latin Course
If you have any worries or questions about using the CLC during your school's closure, please do email clctraining@cambridge.org for support.
You can also visit the CLC area of the Cambridge School Classics Project's website for extensive advice and guidance. Visit www.na.cambridgescp.com and click on your chosen edition from the menu.
Finally, do have a look at the website of the North American Cambridge Classics Project (cambridgelatin.org) for extra teaching resources, and training materials including their extensive back catalogue of teacher-support webinars.
Elevate is Cambridge University Press' learning platform on which you can find supporting digital resources including:
WebBooks (online editions of the textbooks)
interactive version of the stories
language manipulation exercises
vocabulary testers
dictionaries
videos (5th edition only)
You can get a free trial of Elevate for 30 days.
To take advantage of this offer please click here.
Once there, scroll to the bottom of the course offerings for the Cambridge Latin Course, then complete the form. This will give you one book code for one user to access the free trial. You will need a code per user.
All users need to register with an active email address. This is the only piece of information that needs to be accurate in the form. To get enough codes for you and your students, you have two options:
The teacher uses their own e-mail as many times as needed to get the right number of codes and then emails them to their students.
Or
Have students sign up with an active e-mail to receive the login information. The information they enter in the form can be inaccurate, they do not have to share their actual details. For example: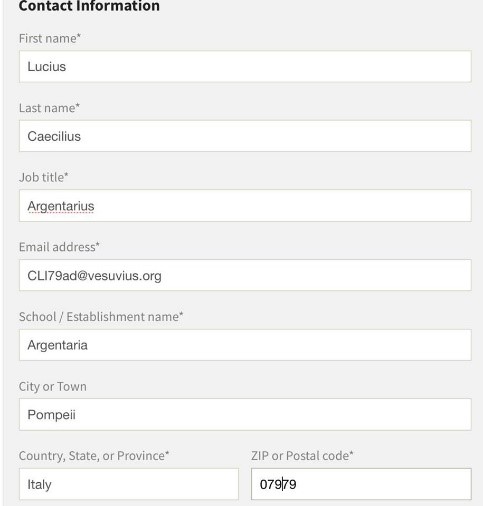 Our iPad textbooks give access to the content of the CLC via an iPad app. Once purchased, our iPad Textbooks can be used without an internet connection. In addition to the textbook content, the iPad Textbooks give access to our Story Explorers, our interactive dictionaries, a number of video introductions, as well as audio for stories and model sentences.
iBook Textbooks are only available via the iTunes Store. Your school or district may have an account with Apple. If not, iBook Textbooks can be purchased directly from the iTunes Store, search for Cambridge Latin Course. 
For the 5th Edition The first Stage of each book is FREE and the second discounted, for the 4th Language Information sections are free. Other Stages of both the 4th and 5th Editions are usually $1.99. Due to the current crisis, however, we are offering these at a discounted rate of 99p / 99c for the rest of the school year.
On the Cambridge School Classics Project website you can find free, open access resources for the teaching of the Cambridge Latin Course arranged stage by stage and easy to navigate.
Dictionaries
Vocabulary testers
Cultural weblinks
---
Other Free Resources from CSCP
Explore the epics of Homer and myths from Ovid's Metamorphoses with these free audio retellings. In English, with extensive teaching guidance for use in developing student speaking and listening skills, as well as their understanding of ancient myth.
www.cla.cambridgescp.com/home-cla
The best selling CLA provides a wide range of poetry and prose from the Roman world for all those who are keen to develop an understanding of the authors in the original. Supported by online online activities and weblinks all completely free.
CSCP produce materials to support Latin Literature study for national exams in the UK, inckuding teacher commentaries, story explorers, and student workbooks. These resources have been shared with our US colleagues free of charge, as they will surely also prove valuable in supporting student progress towards reading authentic Latin texts in other educational contexts.